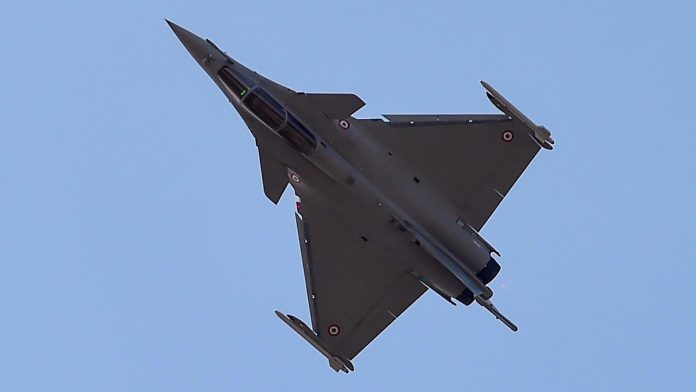 Text Size:
New Delhi: Amid all the controversy over the Rafale deal, the deputy chief of the Indian Air Force, Air Marshal V.R. Chaudhari, is preparing to lead many other senior officers in flying the French fighter jet at the Aero India show in Bengaluru this week.
It's a clear indication that despite the political turmoil over the 36-jet deal between the governments of India and France, the IAF is eagerly awaiting the aircraft. The first Rafale is to be handed over to the IAF in Paris in September this year.
Air Marshal Chaudhari took over as deputy chief in October 2018. His office is responsible for all the IAF's acquisitions.
Chaudhari himself has 3,800 hours of experience of flying various aircraft like the MiG-21, MiG-23MF, MiG-29 and Sukhoi Su-30MKI. A graduate of the Defence Services Staff College, he is a qualified flying instructor, and an instrument rating instructor and examiner.
Three Rafale jets have landed in Bengaluru for Aero India, the biennial show that begins Wednesday. Two of them will be used for flying, while the third will be on static display.
---
Also read: India favoured Rafale also because of its 'nuclear advantage'
---
Inaugural flight test
On 20 September 2018, the IAF successfully conducted the inaugural test flight of the first Rafale manufactured for India. Air Marshal R. Nambiar, the then-deputy chief of the IAF, who was also among the first test pilots of the Light Combat Aircraft 'Tejas' programme, was tasked with the responsibility of conducting the maiden test.
Incidentally, the IAF has named the first Rafale trainer aircraft as RB 008, a doff of the cap to Air Marshal Rakesh Kumar Singh Bhadauria, the current chief of the IAF's training command, who led the tough negotiations for the Rafales. The RB 008 first flew on 30 October, and after it has been thoroughly used for training, will be refurbished and sent to India as the 36th and final aircraft in April 2022, 67 months after the Inter-Government Agreement.
The tail number of the Rafale jets, apart from the trainer, will be in the series beginning BS 001, where BS stands for Air Chief Marshal B.S. Dhanoa, the current chief of the IAF.
---
Also read: Buying complex weaponry is no easy business, but Rafale shows India's process is broken
---
Get the PrintEssential to make sense of the day's key developments