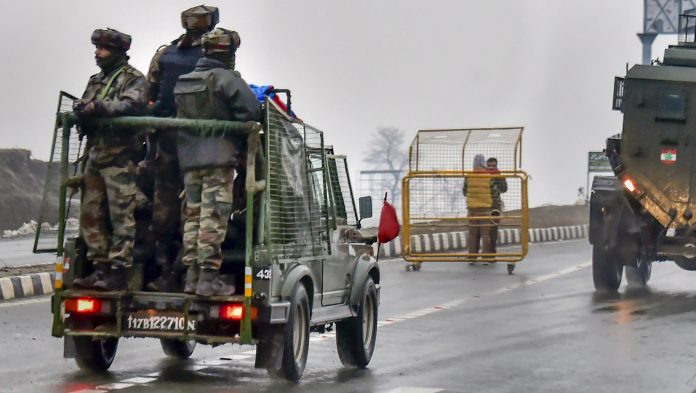 Text Size:
New Delhi: Reports in some Hindi newspapers and social media messages have claimed that Central Reserve Police Force personnel were forced to travel by road from Jammu to Srinagar last week as the government refused to provide them aircraft, exposing them to danger.
Nothing could be further from the truth, top CRPF officers and government sources told ThePrint Sunday, three days after 40 personnel were killed in a suicide car bomb attack on the convoy in Pulwama.
With bad weather hampering convoy movement for days, a backlog had been created, and even if aircraft had been provided for personnel, there would have been convoy movement, one top CRPF officer said.
"There were about 4,000 troops. The aircraft would not have taken all of them. The convoy would still have been used and will be used in the future also," the officer told ThePrint on the condition of anonymity.
But he did not give a direct response when asked about the government response to a request for aircraft.
"Everyone is trying to give a spin to suit their narrative. The fact is that such requests (for aircraft) are normal and convoys are very much part of the normal transfer system. In the past too, security personnel have been picked up in aircraft when weather is bad. Convoys have been used for years," the officer said.
Army personnel also move in convoys, and on an average, 10-12 convoys move every day in Kashmir. Some of them are large movements.
---
Also read: Pulwama attack raises questions on Kashmir's intelligence and security structure
---
Weather a big factor
CRPF sources said 80 per cent of the personnel in the ill-fated convoy had come back from leave and were moving to Kashmir for their postings. The rest included some proceeding on leave, and a majority who were protecting the convoy. Sources said the movement of such a convoy was very normal.
"Usually, it is a convoy of about 40-50 vehicles, but this time, there were 78 because there was a backlog due to weather," a source said.
Commercial flights in and out of Srinagar were also cancelled due to bad weather on a number of days this month.
The leaked MHA letter
The controversy was sparked after a leaked letter from the home ministry, showed that the Border Security Force had written to it on 7 January this year, demanding the placement of two Mi-17 helicopters in Kashmir for two months to airlift stranded troops during the winter season.
The MHA replied saying that after consultations with the BSF's Air Wing, it was felt that the stationing of two choppers for two months was not feasible. However, it had also stated that fresh proposals may be submitted for airlift through IAF aircraft as and when needed, which would be examined on a case-by-case basis.
Sources said that a chartered Air India aircraft is used every day to help central police forces posted in the state to fly to New Delhi on leave or transfer. The seats are distributed among all forces — CISF, BSF, ITBP and CRPF.
---
Also read: 13 detained in Pulwama attack probe, hunt on for Afghan bomb-making expert
---
Signal to terrorists
Senior CRPF officers agreed that movement of troops by air would be faster, but some also questioned the signal that would go out if such a move is implemented in the wake of threats from terrorists.
"During the Amarnath Yatra, the CRPF provides security on the route, along with Jammu and Kashmir Police and others. But now we should ourselves move by air because of terrorists?" said an officer when asked about comments on social media.
Get the PrintEssential to make sense of the day's key developments