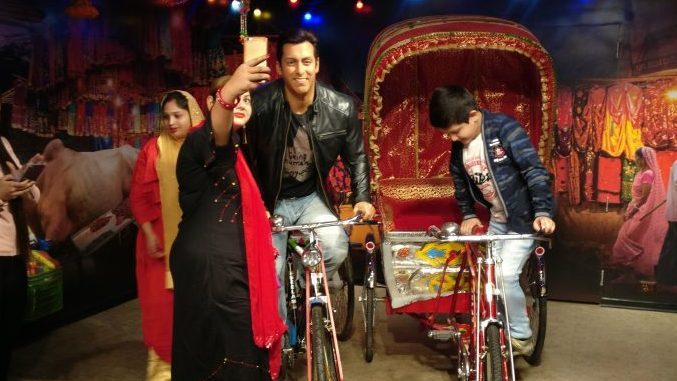 Text Size:
With touch no longer disallowed, wax museums like Madame Tussauds have begun indulging the voyeuristic curiosity that Indians possess.
New Delhi: Jyoti and Jitendra Singh, a middle-class couple in their 30s, giggle as they pose next to a life-size replica of comedian Kapil Sharma at New Delhi's Madame Tussauds wax museum. Their five-year-old daughter and teenaged son look on, occasionally interrupting the fun to take pictures of their parents, who appear thrilled.
"It was our anniversary today, and we've heard so much about the museum, so we decided to visit," Jyoti told ThePrint.
"It's been great. The models don't look like statues at all — it really feels like we're surrounded by the stars."
Jyoti and Jitendra are not alone. About 1,500 people visit Madame Tussauds on weekend days and holidays during peak season, and all because the museum is suspended partly in reality, partly in fantasy, and offers Indians a deal they simply can't refuse: Contact with figures who are eulogised far beyond reach.
In fact, Indians make up a considerable chunk of visitors to the museums across the globe: 40-50 per cent of visitors to the Singapore and Bangkok museums are Indians, according to data provided by Merlin Entertainments, Madame Tussauds' parent company.
Small-town India loves wax too
Even before Madame Tussauds opened in India in 2017, over a dozen smaller museums boasting life-like wax statues mushroomed across the country, taking the glamour of Madame Tussauds to small towns like Mussoorie, Ludhiana, Shimla, Ooty and Kanyakumari.
A black and white photograph in a magazine from London was enough to inspire Sunil Kandalloor to become India's sole authentic wax statue maker. He perfected his craft and opened a museum of his own — Sunil's Wax Museum.
"This was some 20 years ago. At that time, no one in India knew about Madame Tussauds," he said.
He began the process in his village, Kandalloor in Alappuzha, Kerala, putting in the hard yards till his statues become startlingly life-like. Now, Sunil's Wax Museum has outlets in Lonavala and Devgad, Maharashtra, with the Lonavla venue seeing approximately 100 visitors a day.
Subhash, Sunil's brother and director of the museum, says people are drawn to the perfection of the statues. "It's a new art form which people are thrilled to see and touch," he said.
---
Also read: Praveen Jain's photo exhibition is a journey through India's modern political history
---
Cure for the voyeuristic itch
With touch no longer disallowed, wax museums have begun indulging the voyeuristic curiosity that people possess.
"We don't operate like a museum where you cannot touch and feel the product," said Anshul Jain, managing director of Merlin Entertainment, told ThePrint over email. "Madame Tussauds Delhi is all about immersive and interactive experience and Indians love this."
Touching the figures also means putting to test how real they are: Do they have body hair? Torsos? Nipples?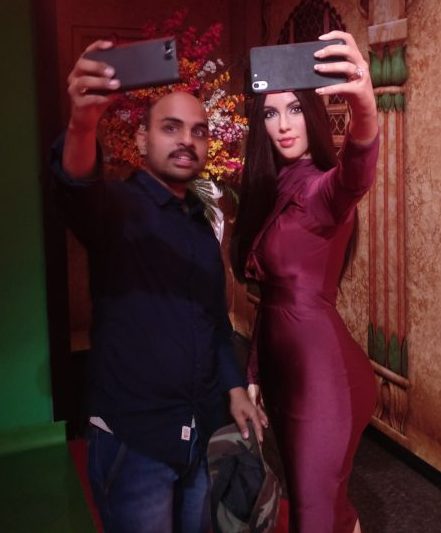 For many visitors, testing the 'life-likeness' of the statues is part of the entertainment. And it turns out the parts not exposed to the viewer aren't made to perfection, and a close enough look brings out the cracks in the models — quite literally. Necklaces conceal seams that join the various parts of the statue together. Backs and torsos are made of hard frames with no waxy skin to conceal the fixtures.
Subhash admitted with a laugh: "There are some funny cases… people are curious to see if we mould the private parts!"
Madame Tussauds staff say they've even spotted guests checking if actor Sunny Leone's statue has nipples (it doesn't), or what's holding footballer Cristiano Ronaldo's shorts in place.
The design of the museum is also conducive to exploration. At Madame Tussauds, some statues like Shah Rukh Khan's and Salman Khan's have rooms of their own.
"They've put a lot of thought into creating the kind of environment and privacy in the museum, and it corresponds well with the celebrity being showcased," said Aditya Jain, a student from Delhi.
'Shallow' art
Madame Tussauds unabashedly presents itself as an entertainment enterprise, evidenced by exorbitantly-priced tickets (Rs 624 for a general ticket booked online, Rs 960 for a walk-in general ticket, Rs 1,400 for an online VIP ticket), and the way it advertises itself as a "magical world".
According to Noelle Kadar, director at the Sculpture Park at Jaipur's Madhavendra Palace, this is among the reasons why "making a life-like sculpture is not art, it's a craft".
"While these are magnificent likenesses of famous people, that's all they are. They're not saying anything new or asking the audience to question anything really. It's just more of an amusement," she said.
On the other hand, for local wax statue makers like Sunil who are self-taught, moulding the figurines is nothing short of art. "After eight years of hard work, I finally found a way to perfect the bodies and eyes of the wax models," he said.
But fascination with the statues is more than skin deep. For several museum-goers, facing figures they have a deep admiration for is enough to move them to tears.
"Many visitors cry when they see Shah Rukh Khan's figure, and on weekends, there's usually a long line outside his exhibit," said Vijay Kumar, a photographer at Madame Tussauds. "They react with shock, a lot of them can't believe that this isn't real."
Museum-goers are especially appreciative of the detail that goes into the work, like the eyes and skin, which are cited often as the most striking features.
---
Also read: Vanishing ways: A photographer sets out to freeze northeast's dying traditions
---
The power of proximity
More significantly, for a country burdened by deep and far-reaching social and political inequalities, touching and interacting with exalted statues acts as a momentary subversion of hierarchy.
For one, an interactive museum abolishes the idea that the object being viewed is more valuable than its viewer. "It (touch) acts as an affirmation of access, and of your value, and reaffirms that your value is not less than the art being exhibited," said Kavita Singh, dean at the School of Arts and Aesthetics at the capital's Jawaharlal Nehru University.
Visitors don't think twice about climbing on top of a scooter with Tom Cruise, or kissing the cheeks of Salman Khan, for example.
Merlin's Anshul Jain says there's a marked difference in the way Indians treat the museums.
"For Indians, their superstars are like demi-gods," he says, and it is precisely this reverence that makes interacting with the statues more intimate, evoking strong emotions that range from excitement to shock to even fear.
Indeed, fandoms in India often do deify actors. In Lucknow, a man turned his home into a shrine for Shah Rukh Khan, and there exists a temple dedicated to Amitabh Bachchan in Kolkata.
For Kavita Singh, fawning over a statue could easily be likened to worship in the Indian context.
"In India, we feel like we have the right to touch that which we worship. If you go to a temple for example, you'll see women pouring milk on a Shivling and placing flowers before it — our way or worshipping, therefore, is not abstracted or distant. We shower our attention and affection and reverence in many different ways," she said.
"These wax museums are also providing a similar kind of agency. They are allowing some of the protocols of worship (touch) to come back into an exhibitionary space which normally prohibits these," she added.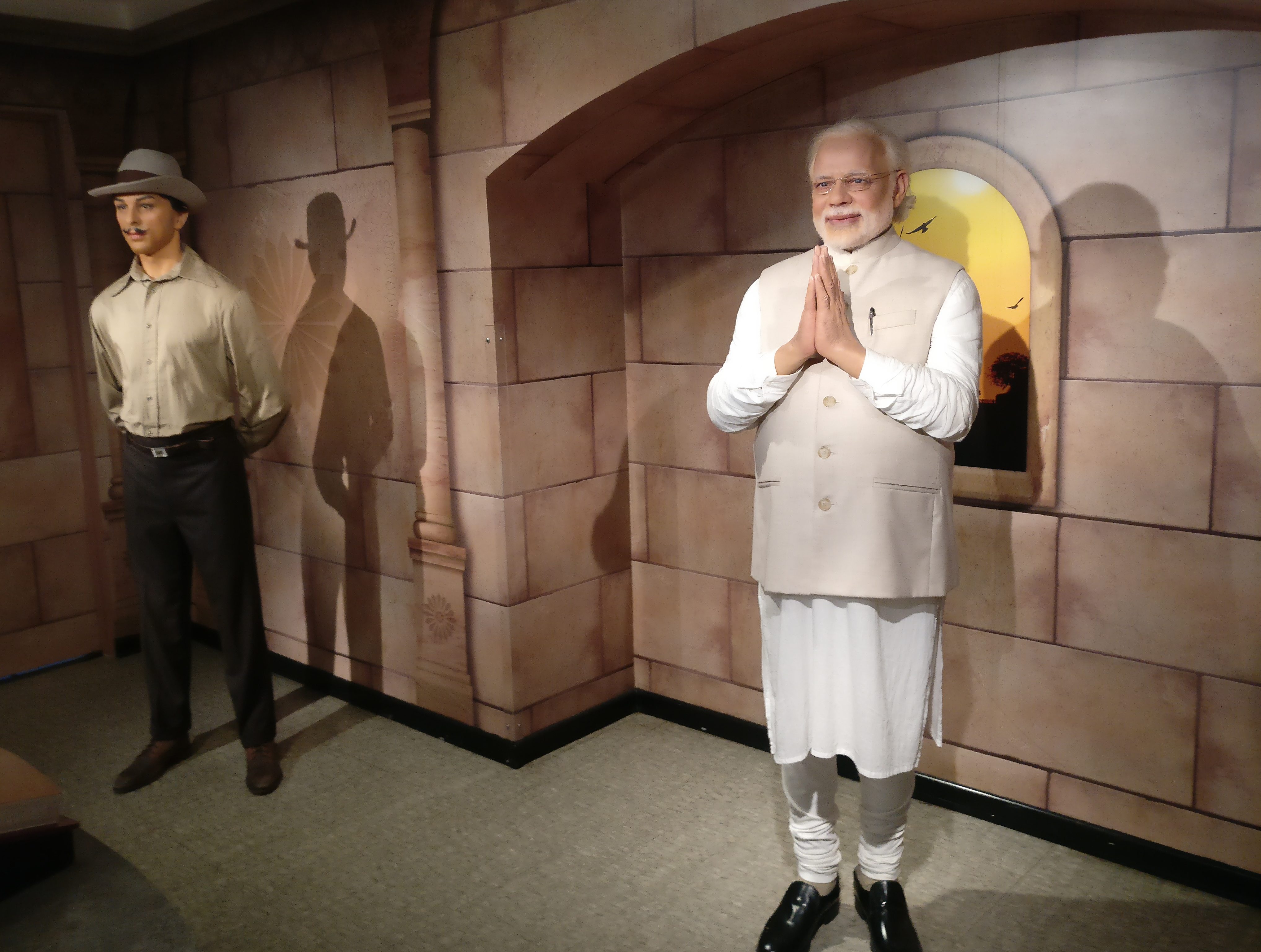 For others, being close to the statues flattens an impossibly steep class difference. By creating an environment of surrealism, these museums manage to momentarily suspend some social inequalities.
"I know that the chances of actually meeting them are slight at best, but for now it feels like we're sitting with them in real life and we're happy," said Neeru Modi, a 35-year-old housewife.
The only difference, as another visitor said, is that these statues are bloodless, "otherwise I'm sure this is what it would feel like to meet them in reality too".
In the world of wax, where inter-community prohibitions don't exist, touch and proximity can be empowering.
Get the PrintEssential to make sense of the day's key developments