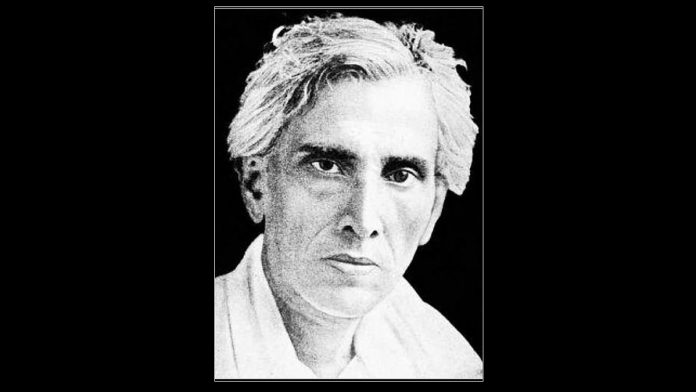 Text Size:
This weekend marked the 142nd birth anniversary of a Chattopadhyay, a literary giant who passed away in 1938.    
New Delhi: While penning his magnum opus Devdas in 1917, Saratchandra Chattopadhyay could never have guessed that generations of lovelorn men will come to be identified as avatars of his tragic, timeless hero.
This weekend marked the 142nd birth anniversary of a Chattopadhyay, a literary giant who doesn't really need to be introduced.
The author of famous novels like Devdas, Pather Dabi and Srikanta, he was compared to the master French storyteller Guy de Maupassant in a 1918 Times Literary Supplement review.
His works have been adapted into multiple films and were frequently directed towards achieving social and political reform.
Early life
Born in Devanandapur village of united Bengal in 1876, Chattopadhyay had a difficult childhood.
His father could not hold a regular job, which forced his mother to shift to her father's home in Bhagalpur. There, Saratchandra was admitted to the Durga Charan Balak Vidyalay.
He started writing at a young age and two of his earliest stories, Korel and Kashinath, written when he was a teenager, can still be read by fans.
He inherited his interest in writing from his father, who reportedly wrote many stories but never completed them. Chattopadhyay had once recounted, "From my father, I inherited nothing except, as I believe, his restless spirit and his keen interest in literature."
---
Also read: Subramania Bharati – The Mahakavi Modi invoked in his Independence Day speech
---
Trip to Rangoon and rise to fame
In 1903, Chattopadhyay left for Rangoon in Myanmar, where he lived till 1916.
Three years later, he married his first wife Shanti Devi, who died in the plague in 1908, along with their year-old son.
He married again in 1910, renaming his wife Mokshada, a young widow, as Hiranmoyee.
In the ensuing years, he produced some of his most prominent works, like Parinita (1914), Biraj Bau (1914) and Palli Samaj (1916).
Some of these works sought to challenge the religious orthodoxy prevalent at the time.
Devdas, one of his less critically acclaimed novels, came in 1917. The story of a dejected lover who takes to alcohol, it has been immortalised through various celluloid adaptations.
Chattopadhyay, however, was opposed to the book's publication. In a letter written to one of his friends, he said, "Devdas is not satisfactory, Pramatha, not satisfactory at all. I do not want it to be published."
---
Also read: On Pash's birthday, remembering the fiery poet killed so young by terrorists
---
A feminist and social crusader
Chattopadhyay was a feminist of his times, with many of his stories having strong female characters.
In Swami, Saudamini has been depicted as a woman who studies literature and philosophy and isn't afraid to stand up to her mother-in-law. Similarly, Choritroheen is also a story centred on four feisty women.
He wasn't afraid to lash out at the superstitions underpinning Hindu society, and championed the cause of the oppressed. For instance, one of his characters, Laalu, was unencumbered by customs and had no reverence for the family godman.
In one of his speeches, Chattopadhyay underlined his philosophy towards writing, "Those who have given their all to this world, and got nothing in return, the deprived, the weak, the oppressed… Their pain has unlocked my lips…"
The freedom fighter
Chattopadhyay also played a role in India's freedom movement. From 1921 to 1936, he served as the president of Indian National Congress' Howrah branch. Pather Dabi tells the story of a passionate leader of a revolutionary group.
This great writer passed away on 16 January, 1938.
For ThePrint's smart analysis of how the rest of the media is doing its job, no holds barred, go to PluggedIn