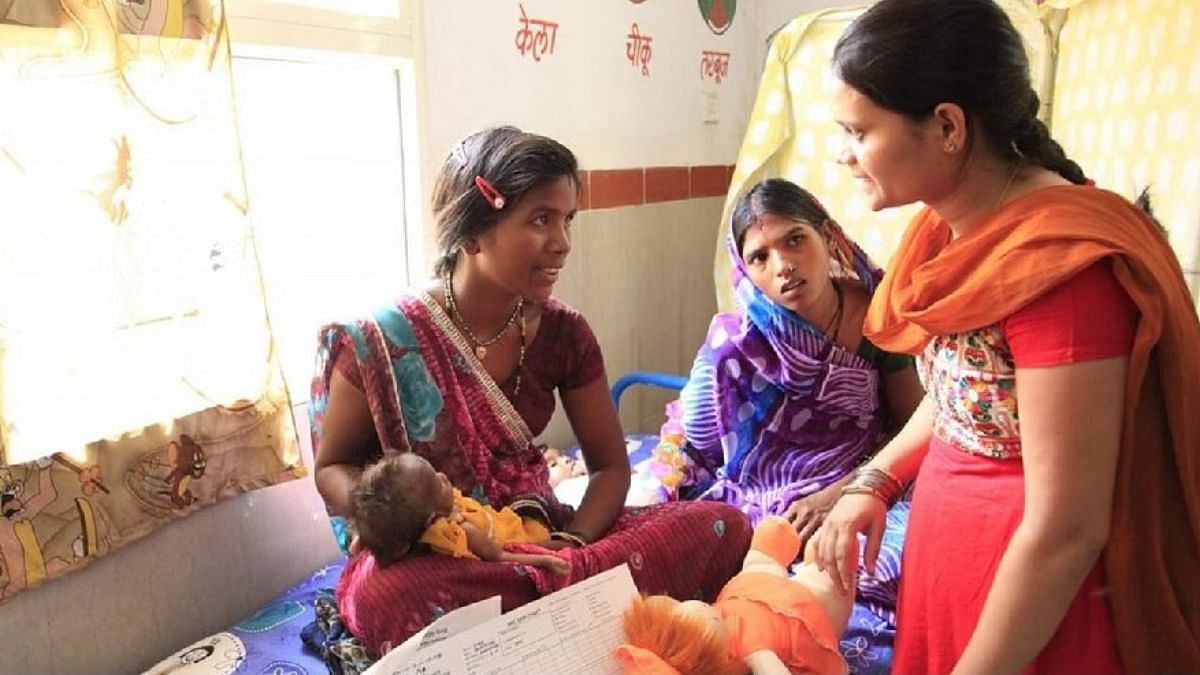 New Delhi: Launched in 2018 to improve living standards in 117 of the most under-developed districts across India, the Modi government's Aspirational Districts Programme (ADP) has emerged as a "template for good governance", especially in remote and difficult areas of the country, stated the Economic Survey report presented by Union finance minister Nirmala Sitharaman Tuesday.
The survey highlighted how in the four years since the programme was launched, many of the identified aspirational districts have not only surpassed the average state values in several indicators such as health, nutrition and education, but that even on financial inclusion outcomes many of them have performed better than non-aspirational districts in the same state.
The 117 aspirational districts across 28 states and union territories were identified by the federal think tank NITI Aayog, based on composite indicators ranging from health and nutrition, education, agriculture, and water resources, financial inclusion and skill development, and basic infrastructure which have an impact on human development index.
The template is now being used by the central government and states to identify backward blocks and use similar data monitoring and competition-based programmes, to improve the most under-developed blocks in the country, noted the annual document tabled by finance minister Nirmala Sitharaman in Parliament.
For instance, in 10 indicators of health, 73 aspirational districts have surpassed the state averages, stated the survey report. All districts have made significant improvements across different indicators.
"… under health and nutrition, 46 districts have improved by up to 45%, and 23 districts have improved by up to 69% in critical indicators related to pregnant women's health, which have a bearing on the maternal and infant mortality rates such as frequency and coverage of antenatal care check-ups; regularity of supplementary nutrition intake by pregnant women, and timely anaemia detection and treatment rate," the economic survey highlighted.
Under education, 46 districts have improved by up to 34 per cent and 29 districts have improved by up to 49 per cent in critical indicators, which affect learning outcomes attained by students — such as the percentage of elementary schools complying with the pupil-teacher ratio specified by the Right to Education Act, 2009, the percentage of schools with functional drinking water facility and percentage of schools with functional girls' toilets.
Many of the aspirational districts have performed better than non aspirational districts when it comes to financial inclusion. "This means more people have access to bank accounts, more have been covered under the fold of government insurance schemes and more can secure (the Centre's) MUDRA loans in aspirational districts," the survey stated.
---
Also read: Newsrooms, consultancies all abuzz but missing key question: Is Budget important anymore?
---
Setting an example
Several of the 117 aspirational districts have also reported saturation in the basic infrastructure indicators like the percentage of households with electricity connection, percentage of habitations with access to all-weather roads under Pradhan Mantri Gram Sadak Yojana (PMGSY), cumulative number of kilometres of all-weather road work completed as a percentage of total sanctioned kilometres in the district under PMGSY and percentage of households with individual household washrooms.
"The special focus on aspirational districts has resulted in steady improvements across health, education, financial inclusion, and basic infrastructure," stated the survey.
The improved performance of the aspirational districts have now prompted the central government to conceptualise two programmes along the lines of the ADP design — 'Mission Utkarsh' and 'Aspirational Blocks Programme'. Under Mission Utkarsh, launched last January,15 central ministries that have a public interface have identified their low performing 10-15 districts.
The idea is to bring these districts at par with an average district in the state in one year and close to the all-India average in another. "In order to further strengthen this initiative, 500 most backward blocks across States and UTs have been identified for rapid development," stated the Economic Survey.
Overall, the social sector has seen an increase in government spending over the years, noted the survey. While the total social sector expenditure outlay of the Centre and state governments was Rs 12.8 lakh crore in the 2019-20 financial year, it has increased steadily to stand at Rs 21.3 lakh crore in the 2023-24 financial year (budget estimate), it added.
The social services expenditure witnessed an increase of 8.4 per cent in the 2020-21 financial year, over FY 2021-22 and another 31.4 per cent increase in FY 2022-23 — being the pandemic years, these required enhanced outlay, especially in the health and education sectors, stated the survey report.
(Edited by Poulomi Banerjee)
---
Also read: Budget 2023 will continue Modi's infrastructure push. But older projects lag
---