New Delhi: While the Modi government seems well on track in meeting its Budget 2022 promise on creation of capital assets in the country, an analysis of state-wise figures shows state governments are still lagging in this regard, with some — like Andhra Pradesh and Punjab — faring worse than others.
The Central government had set a budget of Rs 7.5 lakh crore for capital expenditure in the last budget and according to the Ministry of Finance's monthly economic report, Rs 4.1 lakh crore (or 54 per cent) had already been spent in the first half (till September 2022) of the 2022-23 financial year.
However, a closer look at state finances, available on the website of the Comptroller and Auditor General of India (CAGI), shows that capital expenditure by state governments hasn't equally picked up pace. Data available till November 2022 shows that on average, all states have collectively spent only 36 per cent of their total budgeted capital expenditure so far.
Capital Expenditure, or capex, is the long-term investment governments make in order to ease economic activities or generate additional streams of revenue. These projects facilitate financial gains in the long run.
While the Union government invests heavily in capex on highways, railways, defence and urban infrastructure and health, state governments also have capital expenditure budgets for subjects that are a part of the states' list. Some overlap is, however, possible.
According to experts, financial uncertainties and revenue deficits are some reasons which stop states from meeting their capex budgets.
ThePrint scanned the monthly financial indicator for all the states (not union territories) from the CAGI website to analyse how far states are lagging behind in their capex expenditures.
---
Also read: It's time to end Budget secrecy, deal final blow to India's colonial hangover
---
Andhra Pradesh, Punjab lag behind
According to CAGI data, while states in total had budgeted a little over Rs 7 lakh crore for their capital outlay, only Rs 2.58 lakh crore had been spent till November 2022. This, when more than half of the financial year (beginning April 2022) had already passed. The data is, however, provisional and there is room for change and correction at the end of the financial year.
Among big states, Andhra Pradesh was at the bottom in terms of achievement of capital expenditure targets. The state had budgeted a total of 30,680 for capital outlay, but accounts show only Rs 6,188.5 crore had been spent till November 2022, just 20.2 per cent of its budget commitments.
Punjab, which usually spends a very tiny amount on capital expenditure, was in second place. The state had envisaged a total of Rs 10,981 crore on capex this financial year, but has spent only Rs 2,641.45 crore till the same time, just slightly more than 24 per cent of its budgeted commitment.
Jharkhand has spent only 25 per cent of its Rs 16,770 crore capex commitment, Maharashtra has spent 27 per cent of its Rs 70,819 crore commitments, while Uttar Pradesh — which had the biggest capex commitment of Rs1.24 lakh crore— had spent only Rs 35,658 crore, or 28 per cent, by November 2022.
The only states that show a good performance report in terms of actual capital spending, according to the CAG data, are Gujarat (56.8 per cent), Kerala (53.8 per cent) and Karnataka (52.3 per cent). These states have spent more than half of their envisaged capital expenditure budget this year, as of November 2022.
Repeat offenders — Punjab and Bihar
There is a chance that in the remaining four-month period (December 2022-March 2023), the states could fund some big projects and spend the committed capital expenditure money. ThePrint looked at the average commitment fulfilled by states in five previous financial years, from 2016-17 to 2020-21, to estimate the likelihood of it happening. For this, ThePrint scanned data from the financial accounts of each state and divided them with their budgeted numbers, to see how far they were lagging behind their target.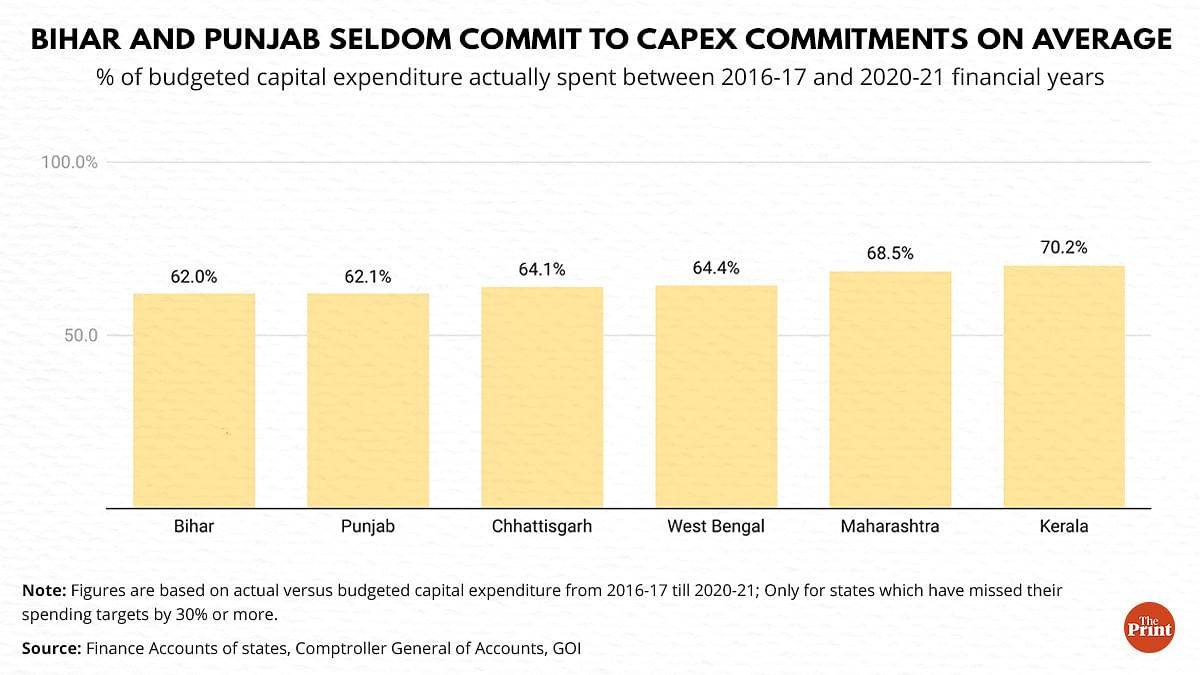 According to available data, Punjab has routinely fallen short of spending its budgeted allocation on capital expenditure in the past five financial years. Between 2016-17 to 2020-21 financial years, Punjab allocated Rs 50,468 crore on capital outlay in its budget, but spent only Rs 31,320 crore. On average, it has spent only 62 per cent of its envisaged capital expenditure in the past five years.
Bihar has also been a repeat offender in this regard. During the same period, Bihar also envisaged a capital expenditure of Rs 1.76 lakh crore, but managed to spend only Rs 1.077 lakh crore or 62 per cent of its capex target.
Chhattisgarh spent 64 per cent of its committed Rs 67,860 crore on capex during this period. All the rest of the states had spent at least 70 per cent of their budgeted capital expenditure over the 2018-22 period.
Some states show an extremely good record of adhering to capex commitments. Karnataka, for instance, committed a total of Rs 1.76 lakh crore capex during these five years and actually spent Rs 1.744 lakh crores, meeting about 99.1 per cent of the envisaged spending.
Madhya Pradesh (with 96 per cent target achievement), Jharkhand (95 per cent), Odisha (89.6 per cent), Telangana (84.1 per cent) and Gujarat (81.5 per cent), also remained committed to budgeted capital expenditure.
Why some states axe their capex
The reason why so many states do not spend their budgeted capital expenditure money could be attributed to various factors, believe experts.
"Capital expenditure by states has been low on account of cessation of GST compensation and lower market borrowings by the states, due to delays and uncertainty regarding the inclusion of off-budget borrowings of state governments in deciding their annual borrowing," said Manish Gupta, associate professor at the National Institute of Public Finance and Policy (NIPFP).
He added: "There is a possibility that because of these financial uncertainties some states might have had a slow start in funding their capital expenditure."
While that might explain the reasons for low capex for this year, it still doesn't answer for repeat offenders like Punjab.
"Punjab is a debt-ridden state and for a long time it's been running on a revenue deficit —earning low incomes but committing more to state-running expenditure," said Lakhwinder Singh Gill, professor emeritus at the Punjabi University in Patiala.
He added: "Punjab's revenue streams are so dried up that it needs to take a loan to pay salaries to its staff. Money is a fungible asset, and capital expenditure is the easiest to cull."
Gill further said, "So, when the money arrives, the government finds one or the other excuse to cancel the promised capex and continues to balance its revenue deficit hence capex remains low."
Gupta added: "It all boils down to fiscal marksmanship — divergence from budget estimates — the lower the better. Having a huge difference between actual and budgeted estimates often puts a red dot on a state's financial outlook."
So can states continue to cull their capex for long? The answer is no, according to Gupta.
"Capital expenditure is money spent for building a future revenue stream," Gupta explained.
He added: "You invest in a big project today that would enhance economic activity in future and also yield returns. The states continue to cut their capex projects are also basically cutting down on their future revenue streams. This will adversely impact their economic growth."
(Edited by Poulomi Banerjee)
---
Also read: Budget 2023 will continue Modi's infrastructure push. But older projects lag
---