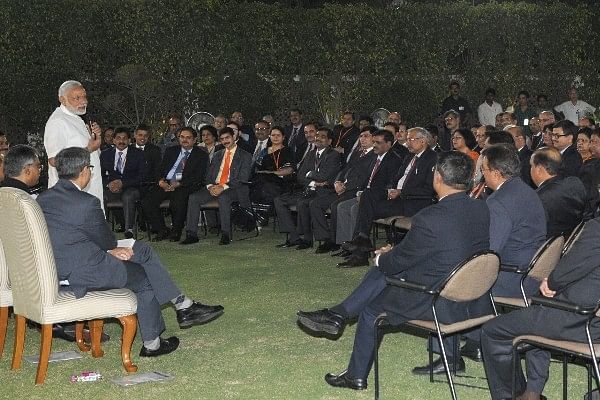 After IRS, Modi govt wants to forcibly retire IAS, IPS officers, review tainted ones monthly
In continuation of its bid to get rid of "corrupt" and "unproductive" government officers, the Narendra Modi dispensation has now decided to crack the whip on more such bureaucrats and also wants a monthly review of "tainted" officers, reports Sanya Dhingra.
India's worst CM is working on his image. His opponents will let him succeed
Since Yogi Adityanath became the chief minister of UP in 2017, he has fared rather poorly. His government has made headlines for all the wrong reasons, from encephalitis deaths to rape charges on party colleagues. But Yogi's image took a beating also because he didn't claim any credit for any good work, writes Shivam Vij.
Mirage 2000 couldn't fire a single Crystal Maze during Balakot. Firing rules set to change now
The Indian Air Force could not fire any of the intended six Israeli air-to-surface missiles called the Crystal Maze from the Mirage 2000 during the Balakot air strikes against Pakistan because its laid down protocols did not allow it in that particular situation, reports Snehesh Alex Philip.
Modi & Amit Shah's BJP is one economic crisis away from recreating Indira Gandhi's 1977 fall
India has plunged into an uncertain future, even as its past is reconstructed. Prime Minister Narendra Modi and Home Minister Amit Shah will need more than Hindutva and Congress bashing, writes Kumar Ketkar.
Viral photo of Amit Shah 'sleeping' in Parliament is fake and nearly six months old
A photograph of Union Home Minister Amit Shah purportedly sleeping in Parliament has emerged on Twitter, with users crying hypocrisy over BJP supporters' double standards. The photograph is, however, a screen grab from a moment when he was blinking and looking down, thus making it seem like he was asleep, reports Simrin Sirur.
What Pakistani generals want from PM Imran Khan – career advancement
Over the last several days, Pakistan's already-thin veneer of civilian democratic rule has been shredded to pieces as leaders of both the major opposition parties in Parliament are now in prison. Even the economy is being managed by a team handpicked by the generals. Read the article by Husain Haqqani to know more.
One point BJP, Congress agree on: Modi's unbeatable. Frozen politics waits for big new idea
Advani's BJP fought back after being reduced to 2 in 1984. Congress is fleeing with 52, leaving fight with Modi to activists, intellectuals, PIL warriors, writes Shekhar Gupta.